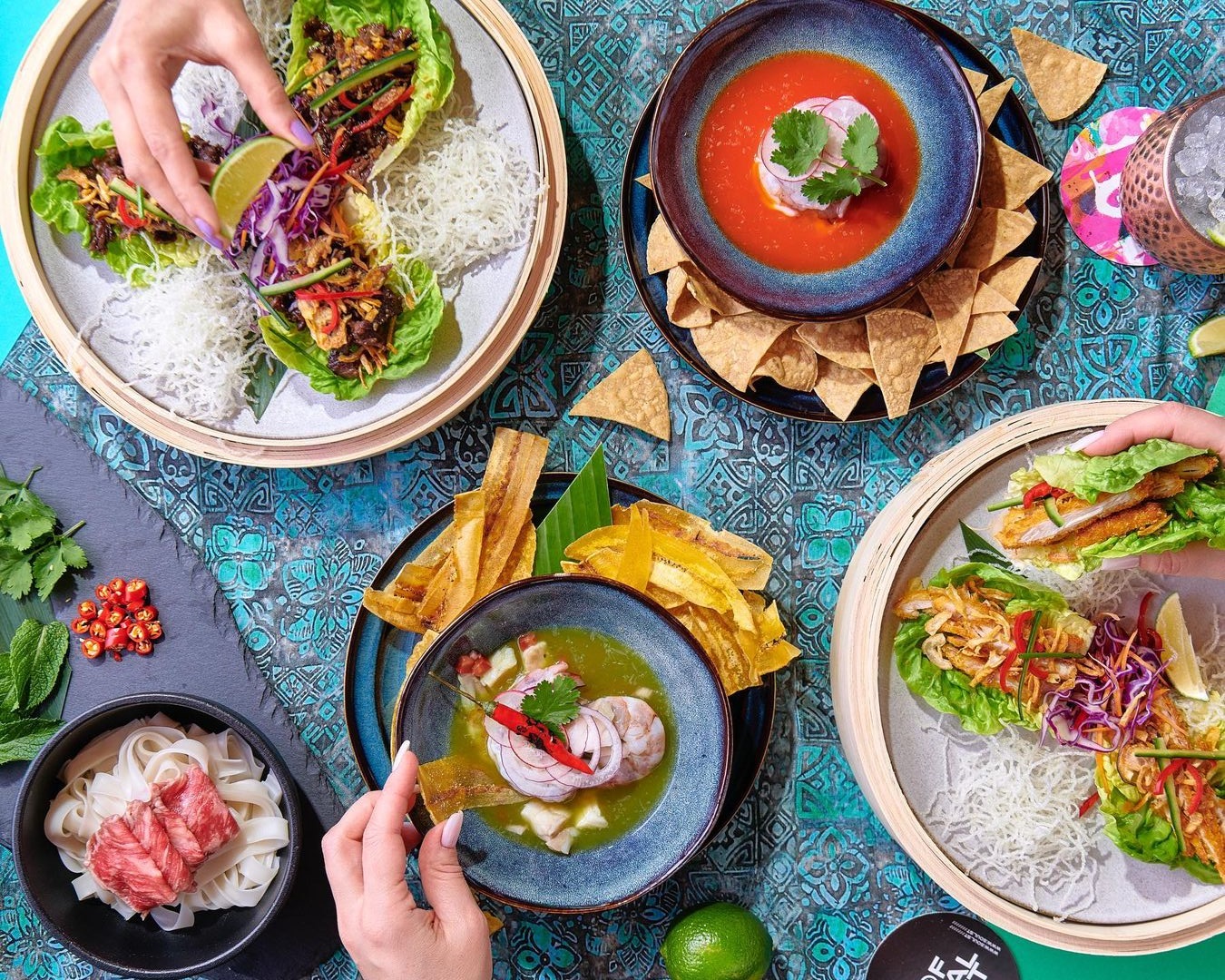 Street Food in Zurich
Street Food in Zurich with a view!
Looking for the best street food in Zurich? Look no further than Soul St, FIVE Zurich, and it comes with a stunning view!
Craving street food in Zurich? Be sure to book your place at one of the most talked about street food hotspots in the city – Soul St! This new restaurant is the talk of the town and not only because of its crazy cool, IG-worthy interiors, a delicious street food offering, but also because it has one of the best terrace's in all the land.
You've got to see it to believe it – just when you thought street food in Zurich could not get any trendier, FIVE Zurich launched an immersive dining experience with one of the most stunning terraces in the city. With views of Uetliberg mountain, the beautiful Zurich landscape, and the city skyline, you'll want to save space on the 'gram for this new place to see and be seen.
THE ART OF GLOBAL STREET FOOD IN ZURICH
If you're already an OG fan of Soul St. you will know that we have an unwavering passion for the Art of Global Street Food. The concept, born in Dubai and made famous at FIVE Jumeirah Village, has hit Switzerland by storm, offering a whole new take on your usual street food in Zurich you can expect to find. In fact, our chefs have perfected the age-old traditions of some of the tastiest street food served around the world, and now serving the best gourmet street food in Zurich. We're talking about the best Asian street food, the best Latin street food, and the best Indian street food – what's your fave street food in Zurich?
But what's better than great street food in Zurich, you ask? Well, that's easy… Great food, and great views. And at Soul St. you get the best of both.
That's because our home, FIVE Zurich is cleverly located at the scenic foot of the Uetliberg mountain, which means you can expect beautiful forest views that meet breath-takingly, stunning city views. So again you ask, the best street food in Zurich? Hello Soul St.
Want to know what the fuss is all about? Want in on the #greatfoodgreatviews action? Simply step onto our generous terrace, take in the fresh air and the pristine views, enjoy the sunshine, and get comfortable on our lounge chairs. That's right, once you settle into the terrace at Soul St, there's no need to hurry home any time soon. After all, you've got a whole menu packed with the best street food in Zurich to get through, right?
All that fresh forest air got you feeling a little adventurous? Us too. That's why we took the outdoor dining experience up a notch. Take a seat, sip a cocktail and dine in our traditional swiss cable cars. (Also, another great place for your next Insta shot – just saying.)
So, pack your sunnies, and your fully-charged smartphone (for all those IG snaps you're inevitably going to take), and get you and your friends over to try some yummy street food in Zurich for some supreme street al fresco dining.
Remember, this one-of-a-kind concept now in Dubai and Zurich features cuisines from around the world in one place and caters to all palates with an intent to create a community that is united over the best gourmet street in food Zurich. What more convincing could you need?
We're the new (hot) kid on the street, which is why we recommend booking your table in advance, especially if you have a preferred table you already love (like on one the terrace!) to avoid disappointment. Seriously, we book up fast so mark your diary and get your booking in.
Subject to availability. Advance bookings are recommended. For bookings and enquiries call  +41 44 456 55 55 or email [email protected]
BE THE FIRST TO KNOW – OUR NEWS
Join our mailing list