Experience immersive dining like no other and travel the world one cuisine at a time. Celebrate the art of global street food, sample a colourful combination of Asian, Latin American, Indian, European and Levantine street food classics and exciting fusions, all under one roof.
Starters
Starters
Starters
Starters
Begin your journey with our one (or a few) of our unique, tapas-style street food fusions.
Indian
Frankie rolls (G)(D)
- tawa chicken (N)
Onion and spinach bhajia
crispy onion fritter, mint chutney (G)(V)
TANDOORI CHICKEN MOMOS
steamed chicken dumplings, tandoori marination, mint chutney (D)(G)
SAMOSA CHANA CHAAT
potato samosa, spicy chickpeas, onions, sev, mint chutney, coriander (D)(G)(N)
European
BAGEL CHEESE STEAK SANDWICH
sliced beef rib eye, capsicum, mushroom, pickled jalapeño, cheddar cheese (D)(G)
ARANCINI
truffle risotto, parmesan cheese, pomodoro sauce (D)(G)
ASIAN
Robata Skewers
- shrimp kushiyaki, chilli mayo, acar (N)(S)
BAO SELECTION
Soft Shell Crab - carrot, pickled red cabbage, hoisin, shiso, chipotle aioli (G)(S)
Beef - lettuce, spring onion, pickled cabbage, carrot (G)(N)
EDAMAME
sea salt | chilli ponzu (V)
SMOKED SOFT SHELL CRAB SALAD
crispy soft shell crab, ponzu dressing, coriander, basil, mint leaves, togarashi (G)(S)
Arabic
Kale Fattoush
kale, cucumber, tomato, spring onion, radish, mint, pomegranate, crispy pita (G)(V)
Rocca Halloumi Salad
rocca, pomegranate, sumac, halloumi, tomato, lemon juice (D)(V)
Mezzeh
baba ghanoush, hummus, falafel, pita, tahini (D)(G)(V)
HUMMUS
traditional, truffle and avocado (G)
LATIN
Traditional Latin Ceviche
- tulum (S) Octopus, red snapper, shrimp, pico de gallo, coriander aguachile, tortilla chips
Guacamole al Mortero
pico de gallo, truffle oil, tostadas (V)
Nachos
- vegetarian (D)(V)
- pork chorizo (D) black beans, cheddar sauce, pico de gallo, pickled jalapeño
Orlando's Mini Taco Truck
- al Pastor (D) marinated pork, grilled pineapple, coriander, red onion
- asada 18hr slow cooked short ribs, guacamole, coriander, onion
- baja california (S)(D) tempura shrimps, pickle cabbage, chipotle mayo, pico de gallo
EL DIABLITO PADRON PEPPERS
grilled spanish padron peppers, chilli and garlic sauce (G)
Mains
Mains
Mains
Mains
Let's get down to the main event with street food from all over the globe, there's something here to please every palette.
Asian
Vietnamese Beef Pho
wagyu beef, rice noodles, crispy garlic, coriander, lemon, beans sprout, thai chilli (G)(S)
Nasi Goreng
fried rice, chicken satay, peanut sauce, fried egg, shrimp cracker, acar, chilli flakes (G)(N)(S)
CANTONESE CHOW MEIN
wok fried noodles egg noodles, assorted vegetables, spring onions, fried garlic - add on chicken or shrimp
Indian
Ratatouille Pav Bhaji
mixed vegetables, onions, lemon, coriander, focaccia (D)(G)(V) (thali)
Chicken Tikka Masala
cheese garlic naan, kachumber salad (D)(G)
TANDOORI VEAL CHOPS
achari marination, mint sauce, kachumber salad, pearl onion
Arabic
Falafel Wrap
saj, tomato, pickles, lettuce, falafel, tahini (D)(G)(V)
Chicken Shawarma (D)(G)
lettuce, pickles, tomatoes, garlic mayo, saj
HABIBI BABY CHICKEN
arabic spices, garlic sauce, grilled vegetables (D)(G)
BEEF KOFTA
grilled vegetables, Arabic bread, tahini sauce (D)(G)
European
FISH AND CHIPS
Atlantic cod, mushy peas, tartare sauce, chips (D)(G)(S)
SPAGHETTI BOLOGNESE
bolognaise sauce, parmesan, basil
GRILLED DRY AGE TOMAHAWK STEAK
chimichurri, black pepper sauce, mashed potato, grilled vegetables.
BEEF BURGER
burger bun, caramelized onion, cheese sauce, pickles, sauté mushrooms, homemade BBQ sauce, pork bacon, French fries
BBQ Pork Ribs
BBQ sauce, togarashi, mashed potatoes
Latin
Sizzling fajitas
rib-eye, bell pepper, onions, tortilla, salsa roja, sour cream, pico de gallo, guacamole (D)(G)
Tlayuda
grilled rib-eye, black beans, red onions, oaxaca cheese, salsa verde (D)
Grilled rib-eye steak
swiss rib-eye, organic farmed vegetables, chimichurri sauce (D)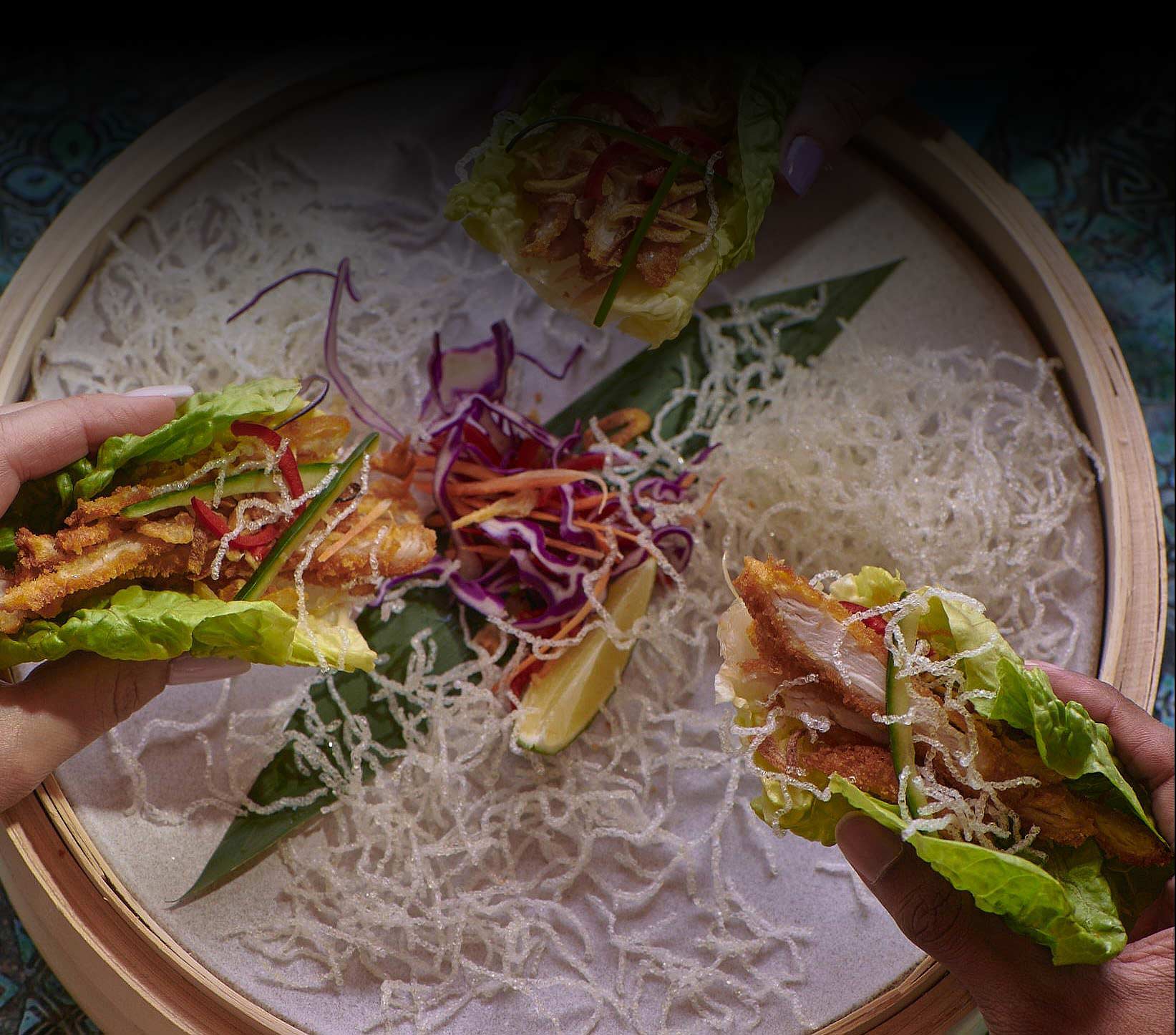 Extras
Extras
Extras
Extras
And now, it's time to really indulge… It'll be worth it, we promise!
Sides
French Fries
Sweet Potato Fries
Truffle Fries
Steamed Rice
Tandoori Naan
plain
butter
garlic
cheese
Dessert
Raspberry Churros
hazelnut cream, mango jam
Fig Meringue
chickpeas, pistachio, fig sorbet
Green Tea Waffle (D)(N)(G)
strawberry ice cream, almond cream
Ice Creams
Sorbets
BE THE FIRST TO KNOW – OUR NEWS
Join our mailing list