Experience immersive dining like no other and travel the world one cuisine at a time. Celebrate the art of global street food, sample a colourful combination of Asian, Latin American, Indian, European and Levantine street food classics and exciting fusions, all under one roof.
Starters
Starters
Starters
Starters
Begin your journey with our one (or a few) of our unique, tapas-style street food fusions.
Indian
Onion and spinach bhajia 14.00
crispy onion fritter, mint chutney (G)(V)
SAMOSA CHANA CHAAT 25.00
potato samosa, spicy chickpeas, onions, sev, mint chutney, coriander (D)(G)(N)
European
TRUFFLE ARANCINI 22.00
Truffle risotto, parmesan, pomodoro sauce (D)(G)
CRISPY CALAMARI 28.00
spicy mayo, lemon, olives, paprika, seven spices, sundried tomatoes (G)(S)(D)
ASIAN
ROBATA SKEWERS – Shrimp 28.00
shrimp kushiyaki, chilli mayo, acar (N)(S)
Arabic
HALLOUMI SALAD 19.00
Mixed leaves, pomegranate, sumac, halloumi, tomato, lemon juice (D)(V)
FATTOUSH SALAD 24.00
cucumber, tomato, spring onion, radish, mint, pomegranate, crispy pitta, olive oil (G)(V)
Mezzeh 29.00
baba ghanoush, hummus, falafel, pita, tahini (D)(G)(V)
HUMMUS 25.00
traditional, truffle and avocado (G)
LATIN
Nachos – Vegetarian 25.00
black beans, cheddar sauce, pico de gallo, jalapeño, coriander (D)(G)(V)
NACHOS – Pork chorizo 28.00
black beans, cheddar sauce, pico de gallo, jalapeño, coriander (D)(G)
Orlando's Mini Taco Truck – al pastor 25.00
marinated pork, grilled pineapple, coriander, red onion, mexican sauce (4PCS)
ORLANDO'S MINI TACO TRUCK – baja california 28.00
tempura shrimps, pickled cabbage, chipotle mayo (4 PCS) (G)(S)
ORLANDO'S MINI TACO TRUCK – asada 25.00
18hr slow-cooked short ribs, guacamole, coriander, onion (4 PCS)
Guacamole El Mortero 29.00
pico de gallo, truffle oil, tostadas (V)
Mains
Mains
Mains
Mains
Let's get down to the main event with street food from all over the globe, there's something here to please every palette.
American
BEEF BURGER 39.00
Swiss beef mince, caramelised onion, cheese sauce, sautéed mushrooms, Chipotle mayo, pork bacon, french fries (D)(G)
Indian
Ratatouille Pav Bhaji 32.00
mixed vegetables, onions, lemon, coriander, focaccia (D)(G)(V) (thali)
Chicken Tikka Masala 40.00
cheese garlic naan, kachumber salad (D)(G)
Arabic
Chicken Shawarma 30.00
lettuce, pickles, tomatoes, garlic mayo, saj (D)(G)
BEEF KEBAB 39.00
beef kebab, grilled vegetables, arabic bread, tahina sauce (D)(G)
MORROCAN LAMB SHANK TAGINE 55.00
braised slow cooked lamb shank, dried fruits, ras el hanout spices, saffron rice
European
TAGLIATELLE CACIO E PEPE 34.00
Cheese fondue, black pepper, truffle paste - Add fresh winter truffle for CHF5 per gram (D)(G)
PENNE ARRABIATA 28.00
Tomato sauce, fresh chilli, parmesan (D)(G)
Grilled rib-eye steak 58.00
swiss rib-eye, organic farmed vegetables, chimichurri sauce (D)
BABY CHICKEN 42.00
corn-fed swiss baby chicken marinade, garlic sauce and grilled vegetables
CLASSIC VEAL MILANESE 78.00
swiss veal, rocket salad, mustard, charred lemon
Spaghetti Bolognese 32.00
bolognese sauce, parmesan, basil (D)(G)
Latin
Sizzling fajitas 52.00
rib-eye, bell pepper, onions, tortilla, salsa roja, sour cream, pico de gallo, guacamole (D)(G)
GRILLED TOMAHAWK STEAK 22.00
US Black Angus Tomahawk Steak, mashed potato, sautéed veggies, chimichurri, BBQ sauce (100g - 22.00 CHF)
BBQ Pork Ribs 55.00
mashed potato, bbq sauce, togarashi (D)(G)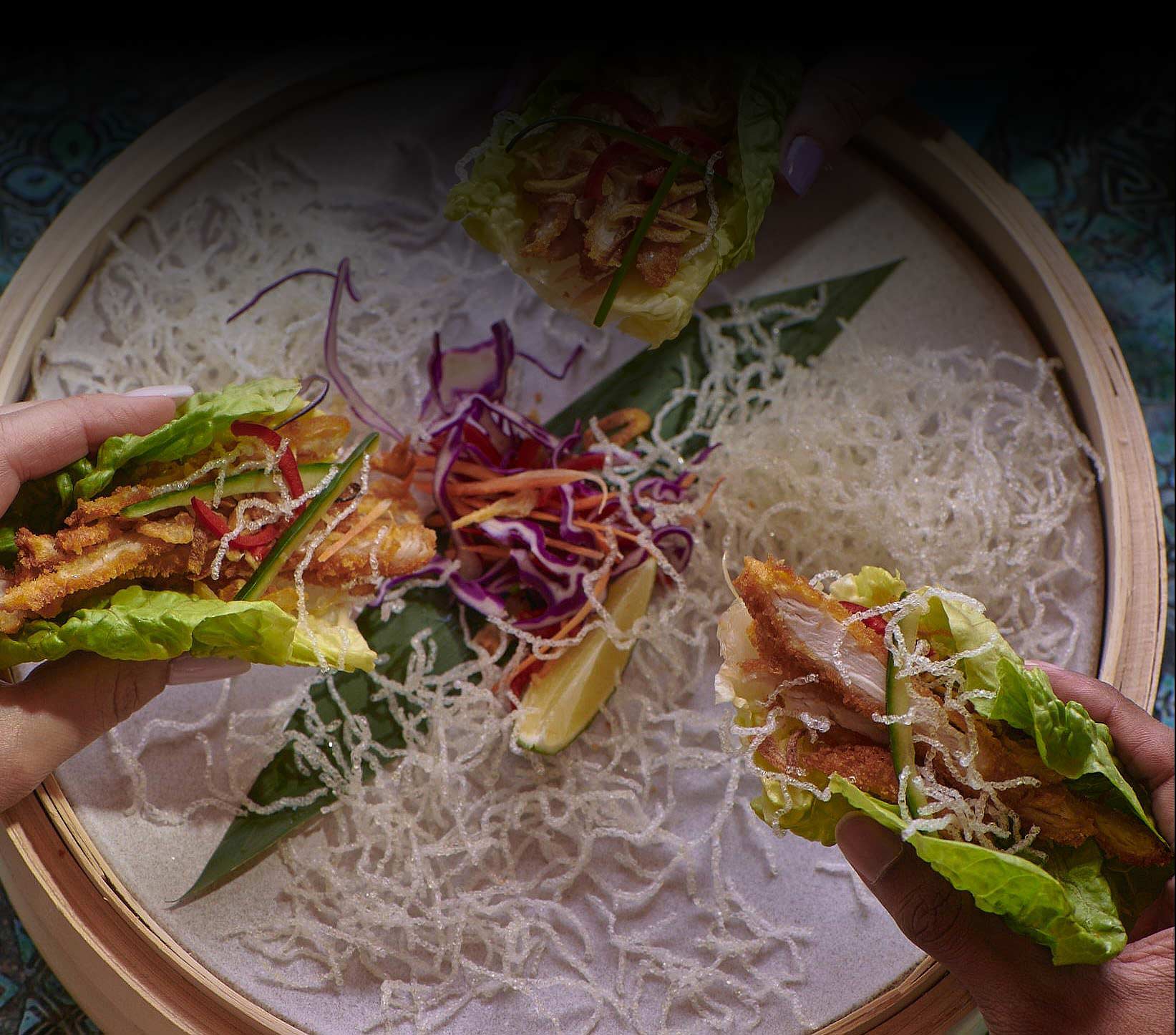 Extras
Extras
Extras
Extras
And now, it's time to really indulge… It'll be worth it, we promise!
Sides
French Fries 10.00
(G)(V)
Sweet Potato Fries 12.00
(G)(V)
Truffle Fries 15.00
(D)(G) - extra truffle CHF 5
Tandoori Naan 9.00
plain, butter, garlic or cheese (D)(G)
Dessert
Green Tea Waffle 20.00
apple lime jelly, strawberry ice cream (D)(G)(N)
Sorbets 16.00
BLACKCURRANT MERINGUE 20.00
chickpea meringue, caramelised pistachio, blackcurrant ice cream (N)
Churros 19.00
raspberry jam, chocolate hazelnut sauce (D)(G)(N)
BE THE FIRST TO KNOW – OUR NEWS
Join our mailing list