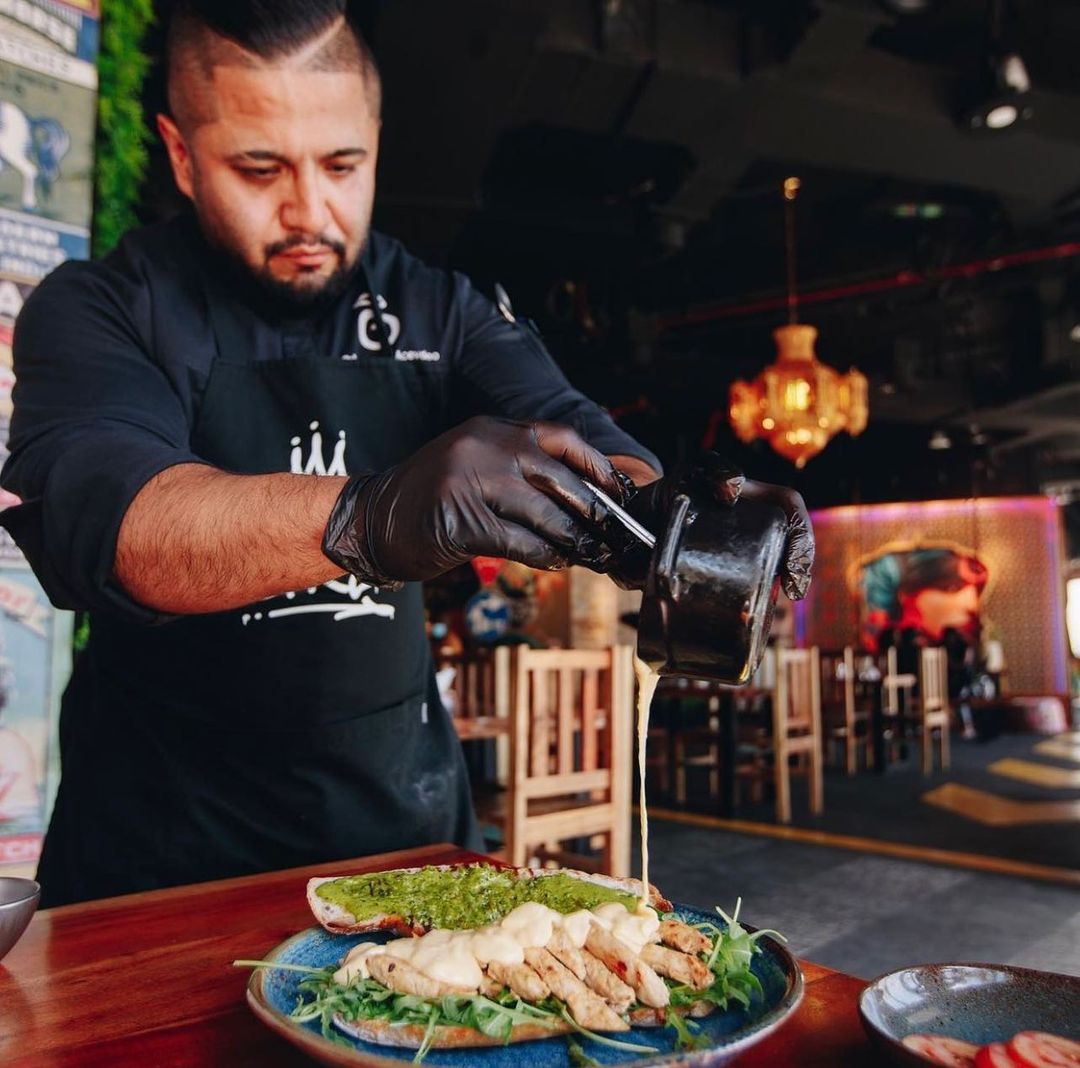 The Chefs of The Best Indian Restaurant in Zurich
Meet Soul St Chef Duo Orlando and Jagjit
How Many Chefs Does It Take To Create The Best Indian Restaurant in Zurich
Our short answer is two. Two creative minds, talented palettes, and passionate foodies to bring you the best Indian restaurant in Zurich. Want to get to know them? Let us introduce you…
Zurich, Meet Chef Jagjit
Chef Jagjit Singh is Head Chef at Soul St, FIVE Zurich. An integral part of the opening team in June 2022, as well as the opening team for Soul St Dubai in 2019, Chef Jagjit brings with him ambition, love for food and originality to his role.
Chef Jagjit's vibrant international, culinary background stems from over eight years of hospitality experience living and working in India and Dubai. Chef Jagjit was part of a year-long culinary journey around the world, exploring the most authentic chefs and best-kept street food recipes, which led to the creation of Soul St's menu. In this role as Head Chef, he is responsible for menu planning and conceptualising, day-to-day operations in the kitchen, sourcing the freshest local ingredients… and getting us the title of the best Indian restaurant in Zurich. #NBD
Focused on an authentic dining experience at Soul St, Chef Jagjit's menu combines traditional flavours with a contemporary flair, encouraging diners to sample tasty bites from the best Indian restaurant in Zurich, socialise with neighbouring tables and take the perfect Insta-shot with picturesque art from international street artists. Chef Jagjit is committed to staying at the top of the region's culinary scene by ensuring creativity behind the menu and is constantly conceptualising new dishes and enhancing flavours and textures.
Prior to his role at Soul St, Chef Jagjit spent two years at The Palms Town and Country Club in Gurgaon, India, learning the importance of curating unique recipes and dishes, bringing together fresh and locally sourced ingredients. Chef Jagjit moved to Dubai in 2017 where he worked as a Sous Chef at Farzi Café, curating special menus for specific dietary requirements, fine-tuning his passion and craft for cooking, as well as learning the discipling of operation in a high-pressurised environment.
His favourite ingredients to cook with are fresh herbs and cinnamon, they can boost flavour without overpowering the taste, and are accessible to everyone. While his go-to homemade meal is mutton curry with rice. A classic in India, simple but the right balance of flavours is essential. He gets his biggest inspiration from his dad. Chef Jagjit is determined to combine the classic flavours of the recipes, in order to bring us the best Indian food and get us closer to that coveted, best Indian restaurant in Zurich title, with every Indian bite ordered at Soul St!
Zurich, Meet Chef Orlando
Born in Puebla, Mexico, Chef Orlando's passion for the culinary arts was cemented from a young age when he used to watch his mother cooking for his sister and himself.
A maestro in the kitchen, his mother was able to whip up dishes from a range of varied cuisines such as Chinese, Indian, Mexican and Italian. Inspired by his mother, Chef Orlando began to create his own dishes at the young age of six – especially his favourite homemade dish, entomatodo – green tomatoes with pork and spicy chipotle chilis accompanied with freshly baked tortillas… starting see how we have some of the best gourmet street food in Zurich?
Taking his love for food a step further he began his professional career in 2010 and was able to travel the world with his first role as a Chef with the Marriott Hotel Group in Mexico. Following this, he moved to New York to work at Sweet Grass Grill restaurant, which served casual but mouth-watering North American cuisine and at a Mexican-themed destination, Tomatillo serving much-coveted vegan Mexican dishes. After four years in New York, Chef Orlando moved to Nicaragua for two years to cook in the kitchens of Yemaya Boutique Hotel, which served delectable Caribbean cuisine.
Having garnered varied and detailed gastronomic experiences across different culinary landscapes, Chef Orlando, mastered the art of working with local ingredients to create fresh recipes that please local and international palettes alike. "I learnt how to play with ingredients and recipes… to experiment widly and delightfully… in order to create my signature dishes that cater to every taste." says Chef Orlando.
After working at reputable restaurants from across the globe, Chef Orlando decided to bring his unique spin on gastronomy to the culinary hub that is Dubai at soul food meets street art destination, Soul St. at FIVE Jumeirah Village. And now? He brings these flavours to the best Indian restaurant in Zurich.
Chef Orlando played a key role in curating the Soul St. menu, which was designed after detailed market research within Dubai, and globally, to understand the latest food trends in street food, followed by over six months of tastings to choose the best dishes that made the final cut on to the menu of the best Indian restaurant in Zurich.
Mixing fine dining techniques with the vibrancy of street food flavours, Chef Orlando elaborates on Soul St.'s guiding principles, "Everything at Soul St. is homemade in-house – from the sauces to the tortillas and marinated meats. That is the Soul St. speciality – the love, deep thought and hard work that goes into crafting every dish. It's food that comes straight from our hearts to your stomach!"
For reservations or more information call us now on +41 4444 565 550, or you can Whatsapp our team directly on +971 44 55 9999 to book your table!
BE THE FIRST TO KNOW – OUR NEWS
Join our mailing list