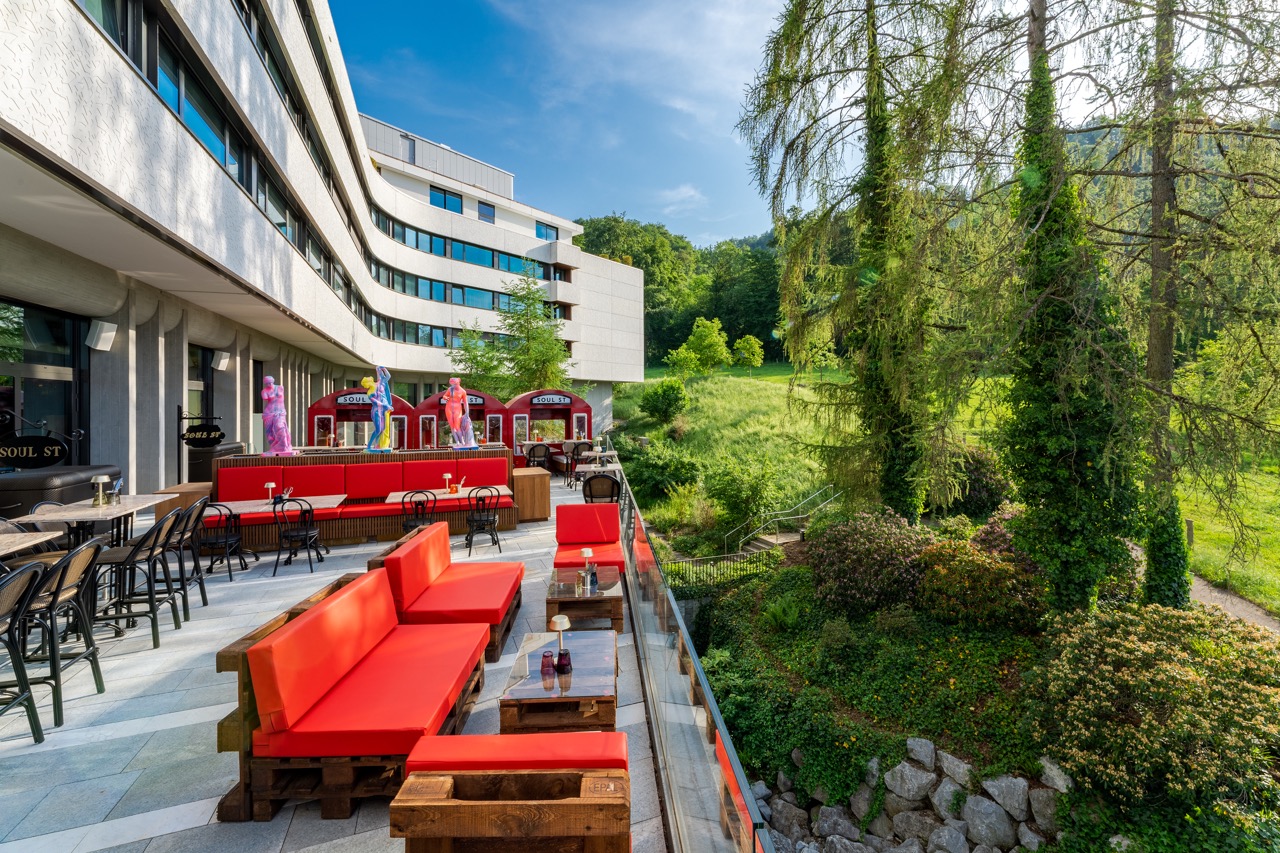 Step into the Greater Outdoors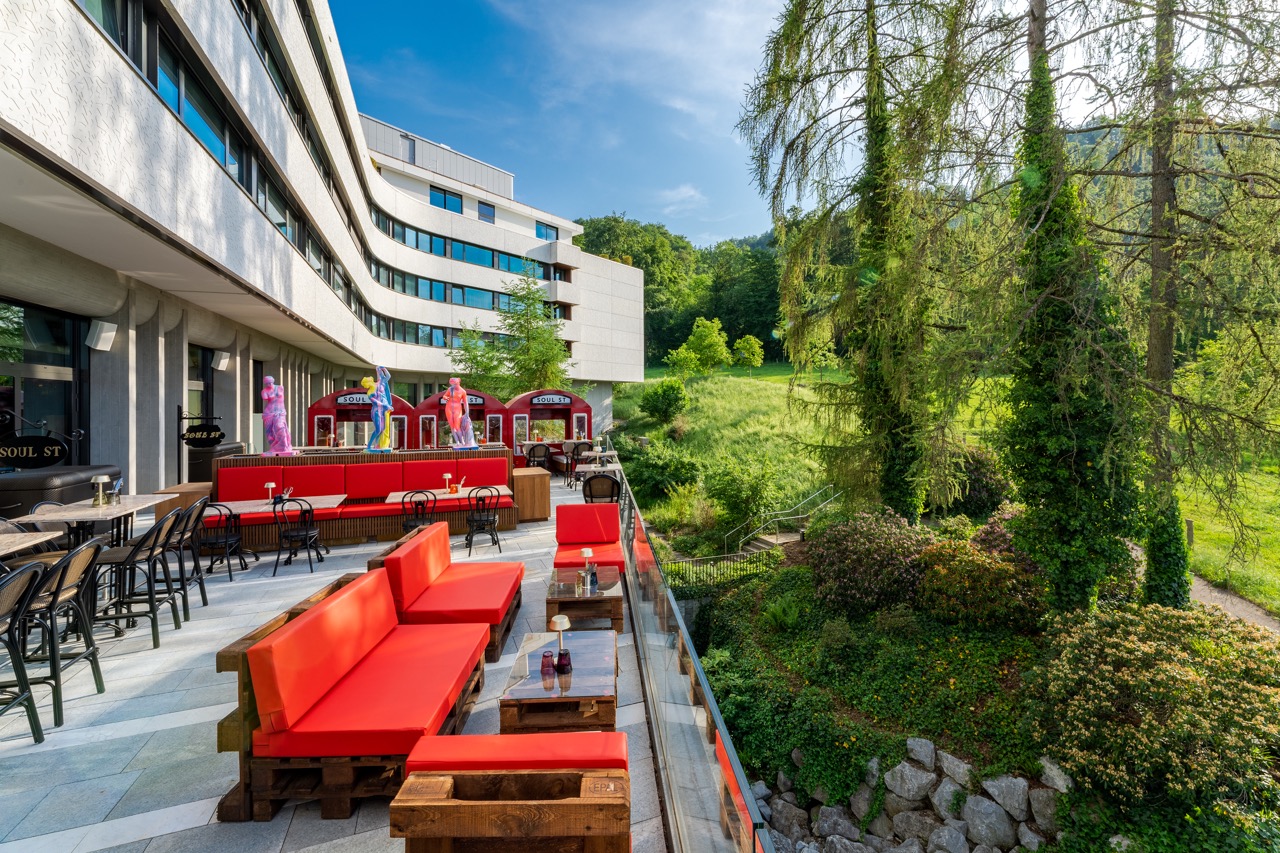 Experience Unparalleled Views at the Soul St. Terrace
Imagine a place where delectable cuisine and breathtaking views come together to create an unforgettable experience. Welcome to Soul St., where you can indulge in an array of delicious dishes from around the globe, while immersing yourself in the beauty of nature.
Nestled at the foothill of the majestic Uetliberg mountain, Soul St. offers a captivating blend of lush forest panoramas and awe-inspiring cityscapes. As you step onto our expansive terrace, a wave of fresh air and pristine vistas are set to take your breath away, inviting you to bask in the warmth of the sun and unwind on our inviting lounges. For those seeking an extraordinary dining experience, why not venture inside one of our traditional Swiss cable cars and savour your meal amidst a unique setting? And, of course, don't miss the chance to capture an Insta-worthy shot while you're here!
At Soul St., we take pride in curating a diverse selection of street food delicacies, complemented by heavenly signature cocktails and accompanied by the infectious tunes, as it it's custom at FIVE Zurich. It's the perfect recipe for embracing the joys of summertime. So gather your sunglasses, grab your smartphone, and invite your friends to join you for an unforgettable al fresco dining experience.
To tantalise your taste buds, here are some of the mouthwatering dishes, fit for the warm summer months, awaiting you at Soul St.:
HALLOUMI SALAD Savor the delightful combination of rocket leaves, pomegranate, cherry tomatoes, sumac, and a splash of zesty lemon juice.
GUACAMOLE EL MORTERO Indulge in the rich flavors of pico de gallo, enhanced with a touch of truffle oil, served alongside crispy tortilla chips.
BRATWURST (VEAL SAUSAGE) Experience the authentic taste of local veal sausage nestled in sourdough bread, accompanied by rösti, mustard sauce, and pickles.
ORLANDO'S MINI TACO TRUCK – Baja California Delight in the fusion of flavors with these tempura shrimps, pickled cabbage, and chipotle mayo-filled tacos. Served in sets of four and tastes like Mexico.
SPAGHETTI BOLOGNESE Indulge in a classic favorite featuring al dente spaghetti smothered in a savory bolognese sauce, garnished with grated parmesan and fresh basil.
CHICKEN TIKKA MASALA Embark on a culinary journey to India with tender chicken tikka masala, accompanied by cheese and garlic naan and a refreshing Indian kachumber salad.
US BLACK ANGUS TOMAHAWK (1.2-1.4kg) Savour the succulent flavors of Creekstone Farms Tomahawk steak, served with creamy mashed potatoes, sautéed veggies, and a drizzle of chimichurri and BBQ sauce.
LEBANESE BEEF KEBAB Experience the aromatic spices of grilled beef kebab, served alongside grilled vegetables, Arabic bread, and a luscious tahini sauce.
VEGAN BURGER For our vegan guests, we offer a delightful Beyond Meat patty topped with juicy tomato, crisp lettuce, onion, vegan cheese, and vegan mayonnaise. Served with a side of golden French fries.
Quench your thirst and complement your meal with our exquisite cocktails:
MANDARIN BREEZE Experience the refreshing combination of gin infused with kaffir lime leaves and a hint of salty grapefruit.
LIME TWIRL Delight in the refreshing fusion of lemongrass-infused tequila, mezcal butterscotch, and tropical pineapple.
Ready to embark on an extraordinary culinary journey? Book your table at Soul St.  now. Contact us at +41 44 456 55 55 or message us on WhatsApp at +971 4 455 9999. We look forward to welcoming you to an unforgettable dining experience where delectable food meets breathtaking views and superb street art! Come see it yourself.
BE THE FIRST TO KNOW – OUR NEWS
Join our mailing list