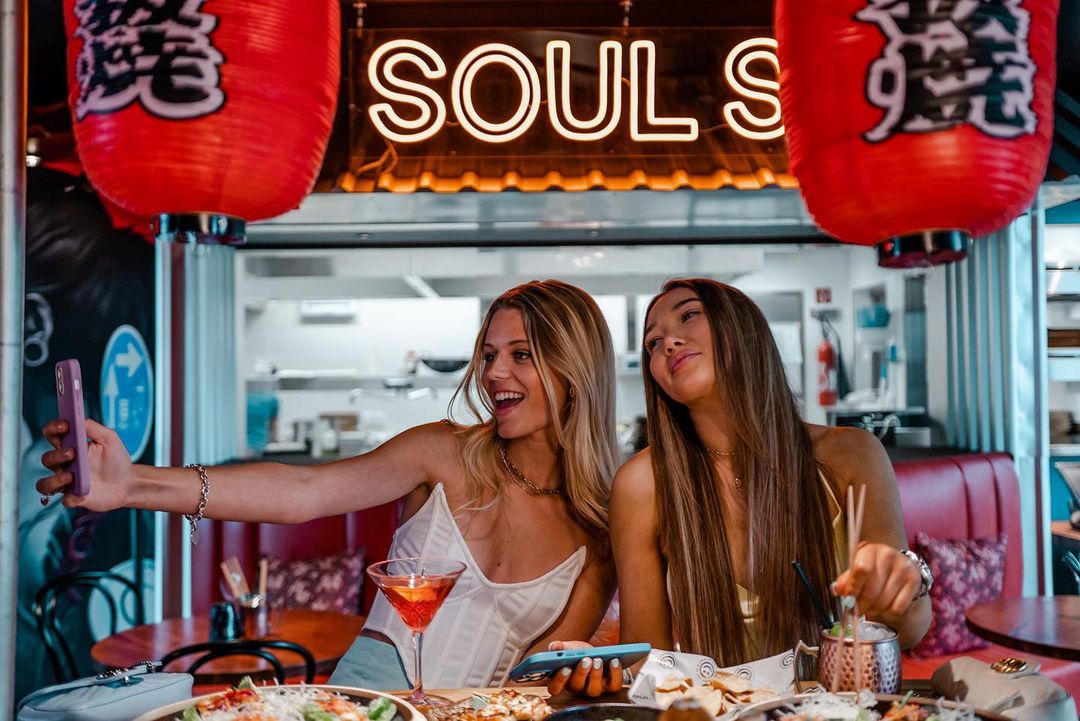 Trendy Restaurants in Zurich
5 Reasons Why Soul St. is One of The Trendy Restaurants in Zurich with Instagrammable Spots
Your Instagram Account Just Got Hotter, Thanks Soul St Zurich
By now you may have heard the rumours, and you might be asking if it's true… Is Soul St one of the top new trendy restaurants in Zurich? 
Well you guys, we can officially confirm that yes, yes it is!  
Soul St. was literally designed to light up your Instagram feed (and your palette but hey, let's leave the boasting of our award-winning street food menu for another chat, shall we?). We're talking IG-worthy moments everywhere you turn, and with enough diversity that you could literally snap a completely unique picture, every time you visit.  Want in on the action? Grab your squad / Instagram boyfriend / personal photographer and get yourself to Soul St. Plus memorize these spots, we're voting them as five of the best spots in Soul St to pose for the 'gram…
1. Enter & Be Prepared!
Stop right there honey, not only do we have the title of one the most trendy restaurants in Zurich but we certainly know how to make an entrance… See what we did there? Anyways, when entering Soul St, it's practically an unwritten law that you have to stop in your tracks, pull out your best pose and get a good snap for the 'gram. Something that says, 'Hey Zurich, I've arrived'… 
2. How About One For The Road?
Well, what better way to slow your followers' scroll than with an event-inciting snap of your experiential dining experience in our custom Soul St Volkswagen Van? Yip, bet there aren't many of your friends that can say they've dined on delicious Asian food at trendy restaurants in Zurich, while sitting inside a VW… Boa down followers, this is experiential dining on a whole new level. 
3. Kate, You & Us
We felt it was only fitting that one of the most trendy restaurants in Zurich honour the world's top supermodel, aka Miss Kate Moss. Don't you agree? And if you do, be sure to have your #OOTD pic taken beside the vibrant, rock & roll 90s tribute to Mossy. Not saying you wouldn't be friends with her in another life but let's face it, this may be the closest you come to partying it up with the one and only Kate Moss, and we'd hate to see you let the chance to document it pass. Unless you happen to be in the venue the same evening the supermodel pops in to check out our mural? Now that would be a great pic, wouldn't it? Kate, (the real) Kate, You & Us. We're working on it…
4. Kama Sutra, But Make It Street Art
And that's exactly what the brilliantly amazing Pichi Avo did. Step into the Indian section of Soul St, which btw happens to be dubbed the best trendy restaurant in Zurich because it serves up some of the best Indian food in this city (no lies), and be drawn in by the passionate, super cool, and seriously unique Kama Sutra mural by our fave kid on the street, Pichi Avo. We'll be so bold as to bet that most of your followers on social media won't have seen anything like this before.
5. The Light Hits Different Outdoors
Whether you come to hang out in of the most trendy restaurants in Zurich (duh, that's us!) during lunchtime or time it just right to be sipping a delicious cocktail during golden hour, you'll see the light is really something else on our terrace. Whip out those sunnies, this is definitely a moment for a sultry pic with your shades on. Plus is there ever a way that such a lush background of natural diversity cannot frame a cute outfit well? We think not. Snap away peeps, snap, snap away. 
And finally. Pictures can say a thousand words but a well-thought-out story? Well, that's practically transporting. Feeling the Soul St vibes? Be sure to get that #vibecheck story in check. Whether it's the moment your tasty tacos are placed in front of you, or when the DJ drops that sick beat, be sure to do a quick pan, and share the Soul St vibe with your Insta-family! 
But most importantly? Share the love. Yes, you guys. Share the love. Tag us in everything you post. We want to savour it all with you. We want to like, and comment, and share the love right back with you too. So remember, @soulstreetzurich is the extra friend at your vibey table.
Ready to experience Soul St, one of the most trendy restaurants in Zurich, and to set your IG-feed on fire? Be sure to reserve your spot so that you can be guaranteed the perfect backdrops. Hit up our reservations team on the details shared below and start planning those outfits, honey!
For reservations or more information call us now on +41 4444 565 550, or you can Whatsapp our team directly on +971 44 55 9999 to book your table! 
BE THE FIRST TO KNOW – OUR NEWS
Join our mailing list