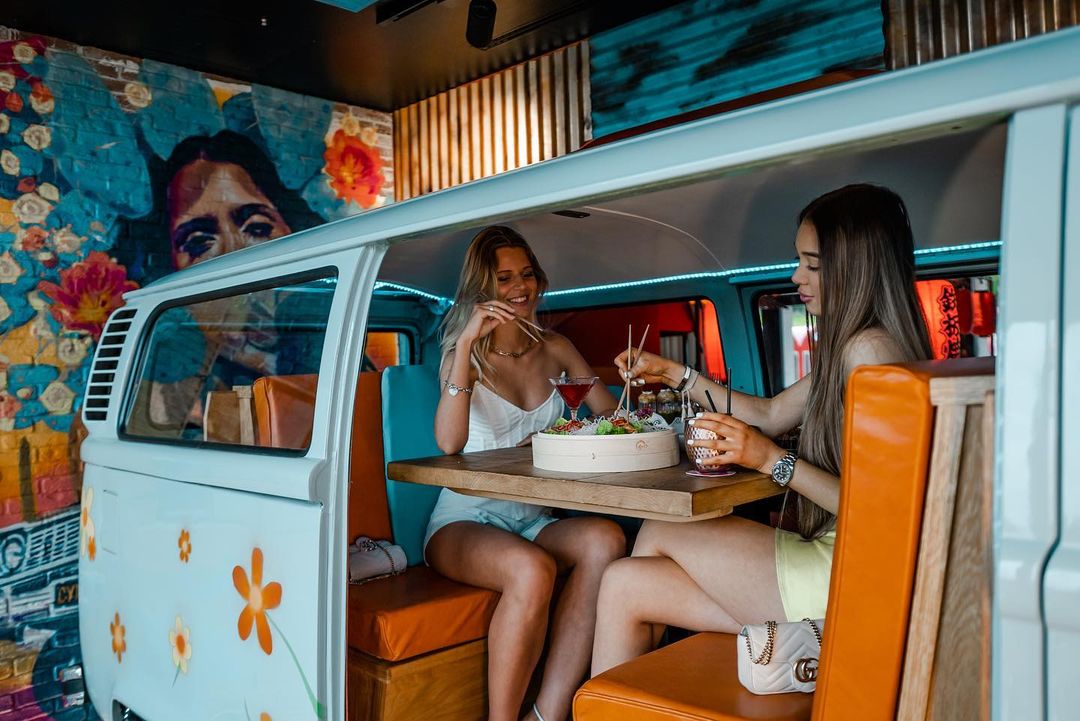 Best Restaurants in Zurich
5 Reasons Why Soul St. is One Of The Best Restaurants in Zurich To Visit
Ready to enjoy one of the best restaurants in Zurich? We've got five full-proof reasons to make your way to Soul St. in FIVE Zurich, now. 
1. Award-Winning Street Food
That's right, not only have we brought over Chef Orlando from Soul St Dubai but we've brought his award-winning menu with him too. Think 18-hr slow-cooked short rib taco's from Orlando's taco truck, or his famous nitro yoghurt bombs – with their sweet yoghurt, tamarind chutney, mint chutney and potato mash, not to mention the impressive nitro show, these are the perfect palate-pleasers for a hot summer afternoon. 
2. Gram-Worthy Ops On Every Plate
Zurich Foodies, you know the rule: The Camera Eats First. That's why every single of our famous street food dishes is served up ready for its Instagram moment, after all it's what got us the title of one of the best restaurants in Zurich. So take your snaps, share 'em and be the envy of all your followers. Then sit back, munch away, and enjoy the sweet satisfaction of stirring up some food envy… and of course, the tasty street food!
3. A Celebration of (Food) Art
ICYMI, at Soul St we celebrate the art of global street food every day, with every dish and every bite. We've compiled a diverse menu of the very best street food dishes around the world, and brought them to one spot where you can enjoy them, right here in Zurich. Come to Soul St for the best Arabic dishes in Zurich, or if you're simply on the hunt for the best restaurant in Zurich, visit us for Indian food like you've never tasted it before. Looking for spicy Latin flavours? Or the best Levantine food in Zurich? We got it. And we're ready for you to discover a new favourite dish each time you visit. Soul St is merely the stage that we've built here at FIVE Zurich to allow these colourful and traditional cuisines an opportunity to shine and to share their flavours with the world. 
4. A Celebration of (Street) Art
But we didn't stop there. At FIVE Zurich we're proud to have various different forms of art peppered all over the hotel. And while there is a mighty collection of impressive prints, glasswork, murals and sculptures, Soul St is certainly the spot where our love for art explodes. From Pichi Avo's impressive Indian Kama Sutra mural to Rock Martinez's vibrant Salma Hayek portrait in the Latin section. Get lost in Sheena's tribute to the rock & roll 90s era, spot Kate Moss, and something new every time you visit Soul St. Just another reason we're one of the best restaurants in Zurich to snap a selflie in RN!
5. The Lushest Outdoor Terrace
One of the attributes we love the most about Soul St Zurich is its perfect position over-looking the lush Zurich countryside. Rolling hills, greenery, nature. Views on views on views. Looking for a spot for a scenic bite? Our outdoor section is the place to be. Not only can you sit back and order some of the best Indian food from the best restaurant in Zurich but you can do it while enjoying one of the top views too! A feast for the eyes, heart and belly!
And there you have it foodies. Five full-proof reasons to get down to Soul St in FIVE Zurich. From tasty, award-winning street food from a menu packed with punch and flavour, to a true celebration of art in various forms. From art that's made in the kitchen and served to be enjoyed, to art that's sprayed from an aerosol can and made to be inspiring, adventurous and thought-provoking. Plus food presentation and interiors to light up your Instagram feed… Are we officially one of the best restaurants in Zurich? We can proudly say, we reckon we're right up there… 
That's right. We chose five reasons to convince you to explore our hot new restaurant in Zurich. We didn't even get a chance to mention the thirst-quenching cocktails, or the sick beats dropped by our DJ. We didn't mention the exciting event lineup, nor the fact that we have some of the most indulgent desserts your heart could desire. But, we'll let you discover all of those for yourselves… 
Keen to bring your gang to Soul St Zurich? We don't blame you. Whether it was our super convincing reasons mentioned above, or from the super sexy pics you've seen us tagged in on the 'gram, or perhaps you're an OG and have visited our OG spot in Dubai? Regardless of what intrigued you, we recommend you book your spot before arriving so you and your gang snap up the perfect table. So be sure to hit up our reservations team with the details below and we'll be sure to fire up our grill, get the drinks on ice and the DJ in his booth… See you soon! 
See you at Soul St, FIVE Zurich! 
For reservations or more information call us now on +41 4444 565 550, or you can Whatsapp our team directly on +971 44 55 9999 to book your table! 
BE THE FIRST TO KNOW – OUR NEWS
Join our mailing list