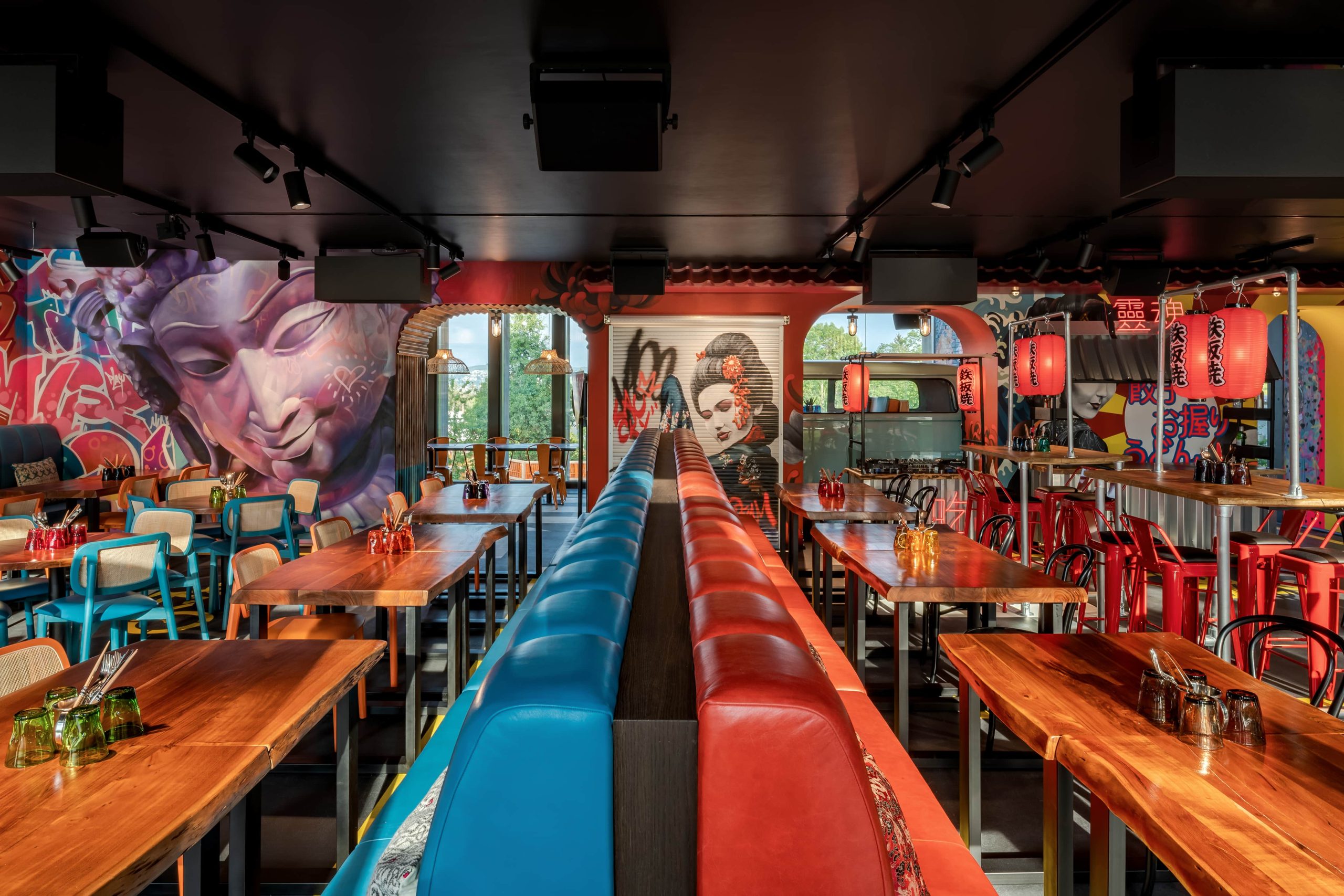 Street Artists at famous Restaurant in Zurich – Soul St.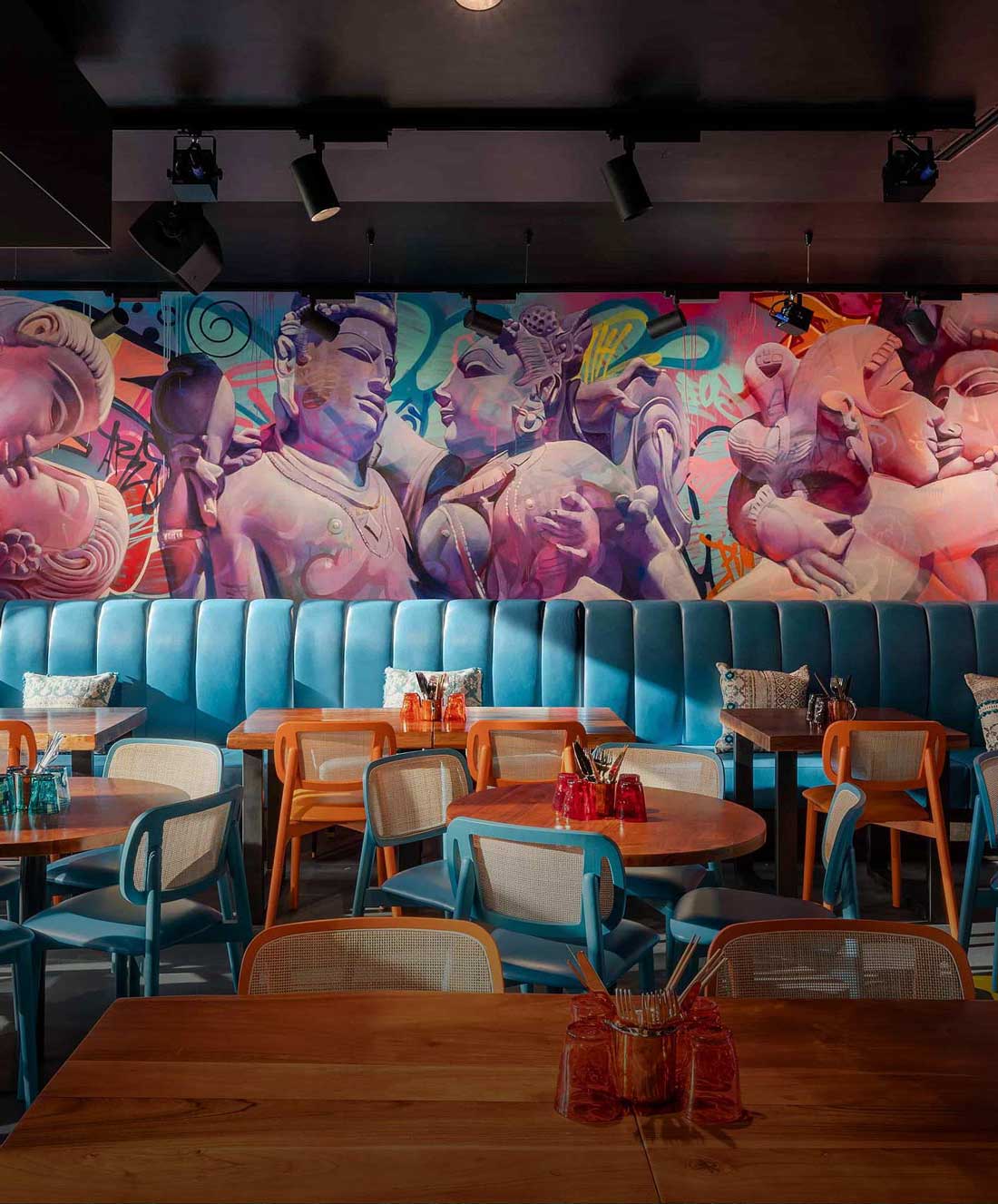 Find out more about the talented artists, that are responsible for the pop of colour at Soul St., one of the famous restaurants in Zurich !
Pop into FIVE Zurich and you'll quickly discover that we're proud to have various different forms of art sprinkled all over the hotel. And while there is a mighty collection of impressive prints, glasswork, murals and sculptures, Soul St is definitely the spot where our love for art explodes – and it shows. Certainly, a spot set to become a famous restaurant in Zurich.
Get your cameras ready, foodies – because your eyes are in for a feast. From Pichi & Avo's impressive Indian Kama Sutra mural to Rock Martinez's vibrant Salma Hayek portrait in the Latin section. Get lost in Sheena's tribute to the rock & roll 90s era, spot Kate Moss, and something new every time you visit Soul St.
Check out what each section at Soul St, a street-art-famous restaurant in Zurich brings with it and who is behind the masterpieces below:
Welcome to Soul St
As soon as you enter Soul St, you'll be transported into another world! It starts with Sheena Lenox's homage to the rock & roll era, where you'll find many artists and quotes that'll take you back to the noughties – a true sensation and symbol of FIVE Zurich, which is quite literally shaped by that era! Lennox, a London-based Saatchi Artist, explores combining her art with imagery which allow her to produce some interesting, unique and eye-catching artwork that truly brighten up the space. She gets inspired by music and fashion, so relishes any opportunity to incorporate her knowledge and passion for these alternative forms of art within her designs.
Latin America
Enter this bucket-list- famous restaurant in Zurich and turn right to the private section and walk into the streets of Mexico, where you will find Rock "CFYI" Martinez's murals (and a VW Van *shocker*). Rock brings creative solutions to neighborhoods around the United States. Working across cultural boundaries of the challenges communities face today, Rock brightens city streets & restaurant with his larger-than-life murals. His skills are known for pushing ideas to extremes and unlocking public art awareness.
Asia
We're talking Geishas and Chinese lanterns! Laura Rodriguez (aka Laucky) from Spain really gave the Asian section of Soul St, dubbed a famous restaurant in Zurich, some real thought! Her naive character reflects a surreal world full of details that makes us stop and look. Parallel worlds are full of life and nature in which you are invaded by basic sensations that travel through your mind. A claim in a harmonious environment, so that the viewer stops to listen with their eyes, reconnects and to be aware of nearby realities. Deep stuff! Come an be in awe of her funky yet elegant artwork!
India
The centre of attention is the Indian section of Soul St, where you can catch a traditional Kama Sutra mural with its own unique modern twist to it! Artist duo Pichi & Avo from Madrid are recognised for their skill at creating connections between paintings and sculptures in urban settings, they adopt a thoroughly innovative approach in their artistic fusions. A balanced combination of classical art and the most contemporary urban art can be identified in their work. From the outset PichiAvo shunned artistic individuality, joining forces to create an absolutely unique body of work using a conceptually urban idiom, both in the street and studio. Guess where you can find one of their masterpieces now?! Yep, dubbed one of the most famous restaurants in Zurich, Soul St.
Always remember to snap your selfie, tag us on the 'gram and let us know which delightfully curated corner is your fave!
Our aim is to delight your palette and help you to explore the world's most vibrant cuisines from around the world. We encourage you to order multiple dishes and share your nibbles with your friends. After all, a food experience shared, is the best food experience you can possibly have.
Come and get lost in breathtaking street art and finger-licking street foods at the street-art-famous restaurant in Zurich Soul St. now!
BE THE FIRST TO KNOW – OUR NEWS
Join our mailing list