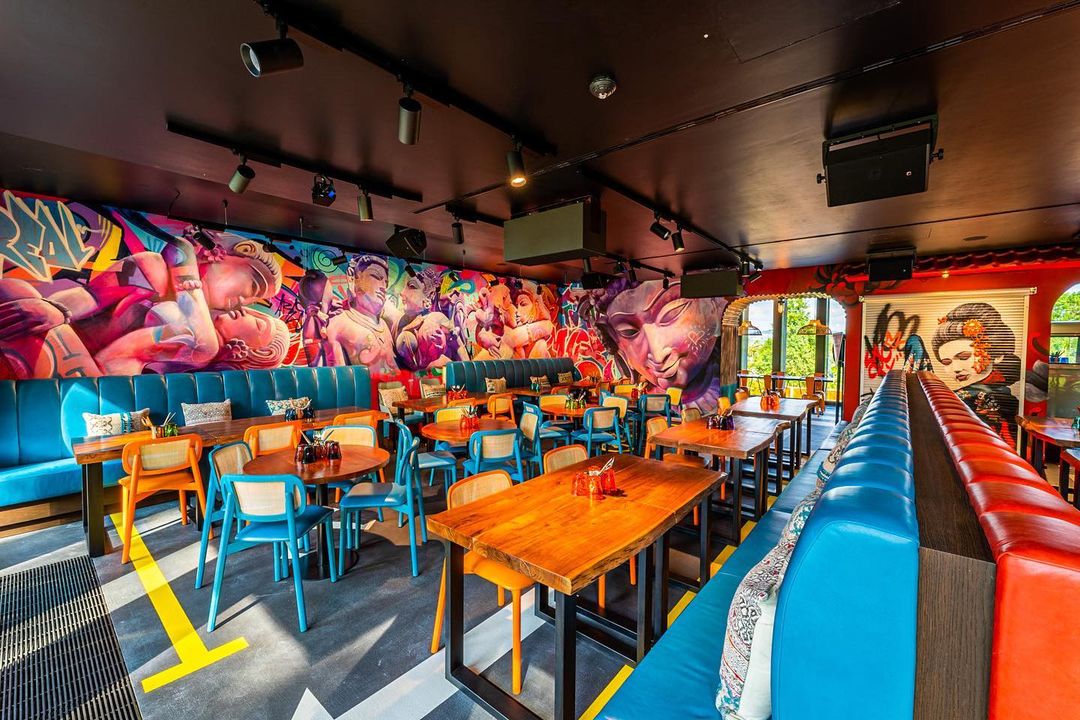 Famous Restaurants in Zurich
Famous Restaurants in Zurich – Award-Winning Soul St. has opened in Five Zurich
Considering Adding Soul St. To Your Weekend Plans? Here's What You Need To Know
First up, tell us, as one of the most famous restaurants in Zurich, that we didn't just read your mind? You were just thinking about adding some spice (& some delicious street food) to your weekend, weren't you? Well, here's a few reasons to confirm your thinking was on the money…
1. Outdoor Terrace of Dreams
Everyone else as keen on dining Al Fresco this summer as we are? Of course, you are… and we predict your terrace of choice will be the one owned by one of the hottest new famous restaurants in Zurich, Soul St!
Expect lush (like, really lush) rolling views of the Uetliberg mountain. As well as our super cute traditional swiss cable cars, also positioned on the terrace. (A super cute Instagram op, perhaps? Absolutely!)
2. Music Got Us Grooving, All (Day &) Night Long
How do you get the title for the one of the most famous restaurants in Zurich? Well, among other things (keep reading for those, below) you play some of the hottest tracks to set the mood. What kinda mood are we setting at Soul St? A great one. Our music taste is a fluid mix of the best R&B, Reggae, Latin and Hip-Hop tracks. Genuinely, there's always a track that gets everyone grooving.
3. The Art Of Global Street Food
We have not one but two incredible chefs adding their years of experience and unique flavours to our menu. Is this how we have earned the title of one of the most famous restaurants in Zurich? You bet it is…
At Soul St. the heart of everything we do revolves around the art of global street food. From the best Indian dishes to flavour-filled Latin American cuisines, Sushi and everything in between. If you can find it in one of the world's most-loved street food markets, you better believe that we have perfected it… It's what makes our regulars believe we are the best Indian restaurant in Zurich, the best Asian restaurant in Zurich, and the best Latin American restaurant in Zurich… all under one roof (yes, in Zurich)
Our aim is to delight your palette and help you to explore the world's most vibrant cuisines from around the world. We encourage you to order multiple dishes and share your nibbles with your friends. After all, a food experience shared, is the best food experience you can possibly have.
4. Art, Art & More Art
Pop in to FIVE Zuirch and you'll quickly discover that we're proud to have various different forms of art peppered all over the hotel. And while there is a mighty collection of impressive prints, glasswork, murals and sculptures, Soul St is certainly the spot where our love for art explodes. Certainly a spot that can easily be dubbed a famous restaurant in Zurich.
Get your cameras ready, foodies because your eyes are certainly in for their own feast too. From Pichi Avo's impressive Indian Kama Sutra mural to Rock Martinez's vibrant Salma Hayek portrait in the Latin section. Get lost in Sheena's tribute to the rock & roll 90s era, spot Kate Moss, and something new every time you visit Soul St.
Always remember to snap your selfie, tag us on the 'gram and let us know which delightfully curated corner is your fave!
5. And The Camera Eats First!
We don't have many rules at Soul St. Our idea is for you to simply enjoy the best street food in Zurich, whichever way you like it… But one thing we do say is mandatory is that your camera eats first! … It's simply why every single of our famous street food dishes comes served up and ready for its Instagram moment. So take your snaps, share 'em and be the envy of all your followers. Then sit back, munch away, and enjoy the sweet satisfaction of stirring up some food envy… and of course, the tasty street food!
Now that's simply a glimpse of what you can expect when you visit the new famous restaurant in Zurich. Whether you're coming for the best Latin American restaurant in Zurich or for good music and the lush green views cascading our terrace, we guarantee there's plenty for you to fall in love with, during every single visit.
Remember, this one-of-a-kind concept now in Dubai and Zurich, features cuisines from around the world in one place, caters to all palates with an intent to create a community that is united over the most famous restaurants in Zurich and in Dubai.
We're the new (hot) kid on the street, which is why we recommend booking your table in advance, especially if you have a preferred table you already love (like on one the terrace!) to avoid disappointment. Seriously, we book up fast so mark your diary and get your booking in.
Book your table now, call us on +41 444565555 or WhatsApp us on +971 4 455 9999.
BE THE FIRST TO KNOW – OUR NEWS
Join our mailing list