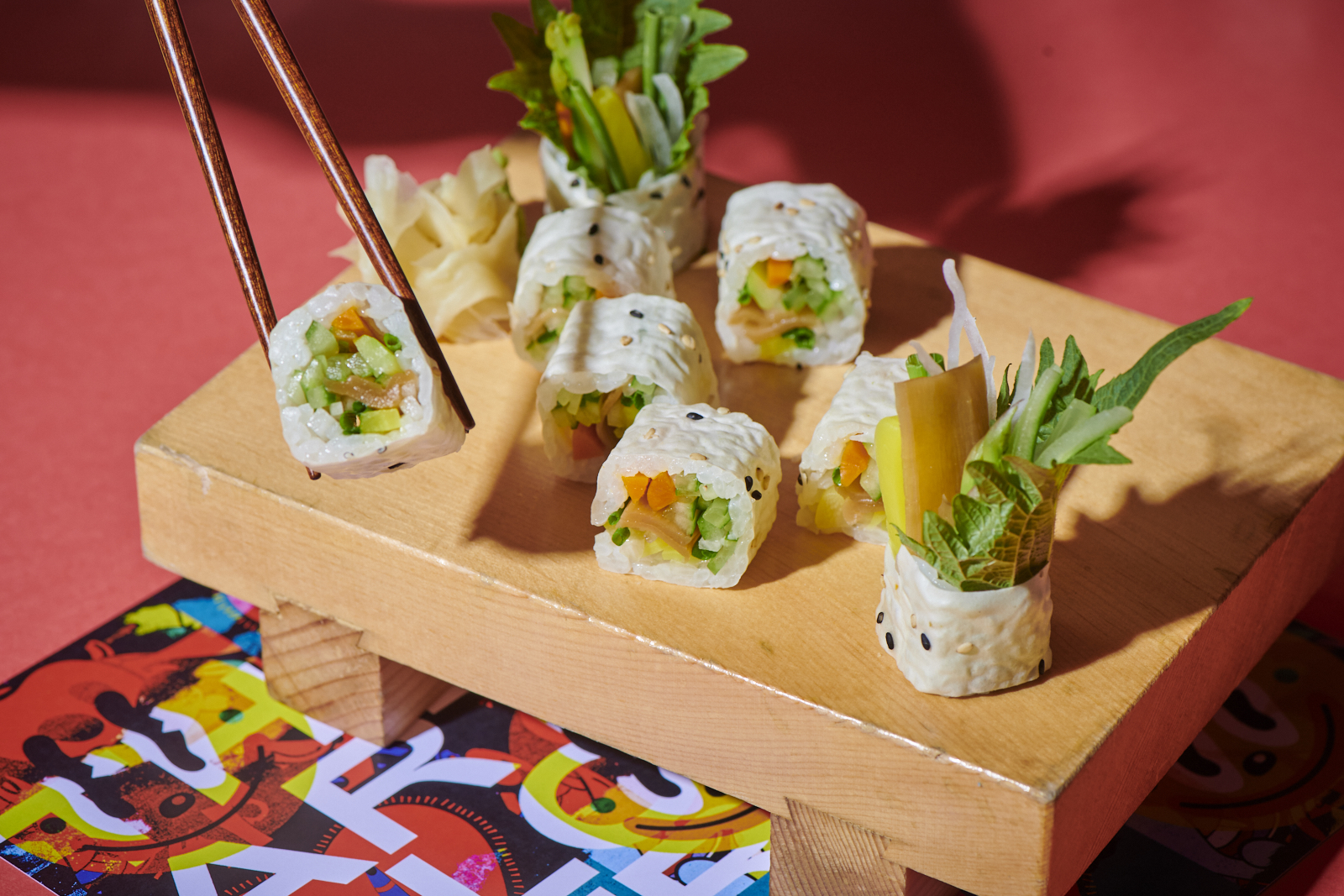 VEGGIE DISHES AT SOUL ST.
5 OF THE BEST VEGETATRIAN DISHES AT SOUL ST, FIVE JUMEIRAH VILLAGE
The best thing about being the one of best Indian restaurants in Dubai means that we have some of the tastiest vegetarian dishes out there too!
ORDER THESE, RN!
Looking for some lunch inspo? Look no further. Head to Soul St, one if the best Indian restaurant in Dubai and set yourself up for a veggie-packed feast. Disclaimer: our menu rocks and it was incredibly hard for us to only choose five favourites but we've done it for you… So, check these out:
Indian Nitro Yoghurt Bombs
Before we even get to flavour with these bad boys, we need to talk about their mystique and IG-worthy glamour. Order the Nitro Yoghurt Bombs and be prepared for the ultimate ooh'ing and aaah'ing to arrive at your table. We won't say too much more than that (we wouldn't want to ruin the surprise) but what we will tell you is these perfectly balanced bites are packed with flavour. Think cool sweet yoghurt, tamarind chutney, mint chutney and potato mash. Looking for the best Indian restaurant in Dubai? You may have just found it.
Guacamole al Mortero
Love guac? Who doesn't? But try our guac, and then you'll know you really love guac. We feel so confident in our combination of pico de gallo, truffle oil, and tostadas that we're willing to stake the claim of having the best Latin American restaurant in Dubai. It's a big claim, we know… but we're sticking to it. .
Paneer Kathi Roll
There's always more room for some Indian food, right? Don't worry, at Soul St we get that. In fact, it's the motto we live by and the mantra we recite every day. "There's always more room for Indian food"… Well, trust us, you've certainly got room for Paneer Kathi Roll, especially from the one of the best Indian restaurants in Dubai …Think onion, capsicum, kachumber salad, naan. Intrigued? We thought you might be…
Extra Sides, Please!
Is this how you order when you visit the best Indian restaurant in Dubai? Yes, same here. Give us all the sides and give them to us in abundance… Especially when we're talking about fries, right? You can never ever have too many fries, nor too many options. That's why we have three whole different kinds of fries on our menu because hey, you never quite know what mood you'll be in. Or what kind of fries you feel like munching on that day… So order a side of classic French Fries, perfectly crispy on the outside and fluffy on the inside. Or if you're in the mood for something sweeter, try our delicious sweet potato fries. Feeling bougie? Sure, you are… get the truffle fries.
By now we hope you're picking up just how passionate we are about our street food. How else could we get. The title of one of the best Indian restaurant in Dubai? It's because we love the art of global street food, and because we do it well.
Flavour is our expertise, mixed with a little showmanship, a lot of good vibes and a seriously good cocktail menu. Which btw, is pretty outstanding and makes for the perfect pairing with our extensive street food menu. We've carefully crafted each cocktail to give you an IG-worthy moment, a refreshing sip in between foodie bites, and a burst of flavour to delight your palette.
Ready to explore your vegetarian dreams with us? Promise us you'll taste multiple dishes on the menu?
Subject to availability. Advance bookings are recommended. For bookings and enquiries call  055 700 0515  
BE THE FIRST TO KNOW – OUR NEWS
Join our mailing list