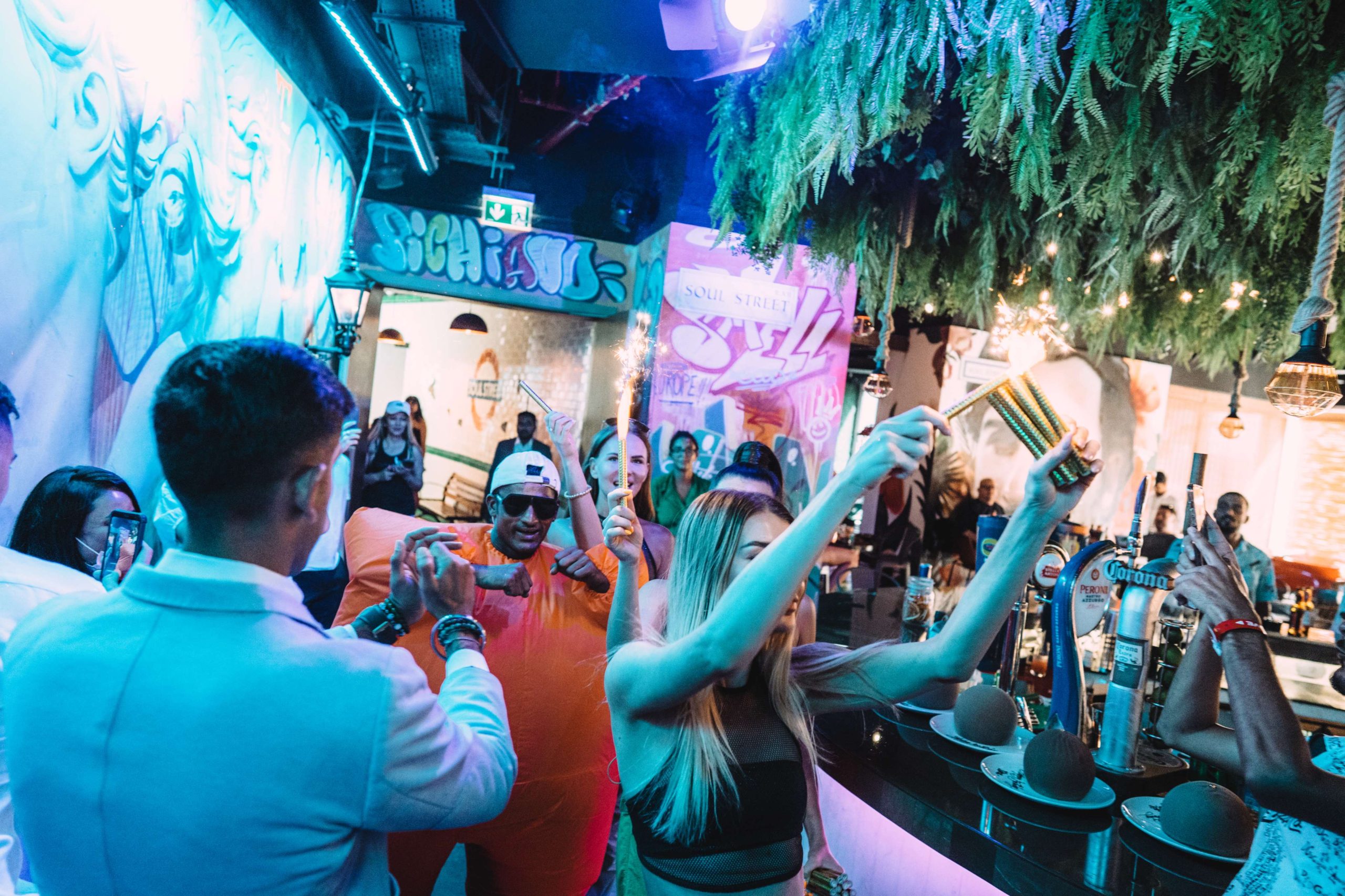 5 REASONS NOT TO MISS NOMAD BRUNCH AT SOUL ST, FIVE JUMEIRAH VILLAGE
Hey Brunchers, Have You Tried NOMAD Brunch Yet?
Saturday comes around pretty quickly and we know you avid brunchers will be looking for the next best brunch in Dubai to visit. Sound about right?
We got you. Here are a few reasons we're confident will convince to book your spot at NOMAD Brunch this Saturday…
Unlimited Tasty Street Food
First up, we're going to tell you that our gourmet street food is surely what earns us the title of one of the best brunches in Dubai? Where else can you taste the world's most celebrated cuisines under one bustling (vibey AF) roof? From BBQ sliders, egg fried rice, and Asian style chicken to veggie empanadas, fish and chips and even an all-you-can-eat sushi live station. Foodies, if you're looking for a brunch in Dubai that allows you (read: encourages you) to feast on deliciously authentic street food, then you have found your new Saturday regular. And we are happy to have you!.
DJ Got Us Groovin'
From the moment you enter the vibrant Soul St and are welcomed with the high energy vibes, you'll know you've booked the right brunch in Dubai. First up, snap your OOTD pics next our beautiful graffiti wall (by the one & only Pichi Avo) and then grab one of the beautiful (and equally tasty) welcome drinks while you make your way to your table. All the while enjoying the sick beats dropped by DJ Davide Saludes, who will just keep the hottest hits coming all day long. We're serious, you'll be up and dancing as soon as you've enjoyed the delicious spread of street food we have ready for you.
Social Pool Ready
That's right, baby. When the weather is this good you need to be spending your Saturday poolside, don't you? We get you. We're proud to be one of the few brunches in Dubai that offers unlimited food and drinks and complimentary social pool access. Slip into your fave bikini, head to the pool, and chill out with us all day long as we move the party outside after lunch!
Sip, Sip Hooray!
Your NOMAD Brunch pass includes unlimited complimentary bevvies. Yes, you read that correctly. This brunch in Dubai offers unlimited sips from 1pm – 4pm your drinks are on us. Expect the most epic cocktail live stations and delicious sips to keep you cool. Pour yourself a frozen marg like the Mango Tango or The Chosen Juan or try our delicious mules, we love the Cucumber Cutie!  And then look out for the famous Soul St. shot show, this is your official warning to be ready…
Epic Afterparty
Brunch in Dubai is cool but have you ever stayed for the afterparty? Ours is epic. Whether you decide to stay poolside or head on back to our buzzing bar the party, DJ and bartenders aren't going anywhere and neither should you! Consider brunch as a warm and post 4pm the main event. Things are about to get interesting…
See you at NOMAD Brunch on Saturday? Yes, we thought so!
Join us for NOMAD Brunch every Saturday from 1pm -4pm from AED249.
BE THE FIRST TO KNOW – OUR NEWS
Join our mailing list